Scarecrow Potato Print Craft
I know I know. More potato print crafts! Yes, more potato print crafts. But how fun and cute are they. This mama was determined to put those sprouting potatoes to good use. It was so much fun seeing what all we could make out of simple potato prints. We have made a witch, a spider, an owl, and today I am sharing our potato print scarecrows with you. Fun craft for multiple ages with craft supplies we had on hand in the craft closet. So what to make the next time the potatoes sprout before we eat them all?
Scarecrow Potato Print Craft
Supplies/what I used:
potato
white and brown paint
googly eyes
yellow streamers
red, orange, and green cardstock paper
sharpies
How to make a potato print scarecrow:
I took and mixed white and brown paint to get a beige color. The kids came and made prints with the potato I had cut in half. We left the prints to dry over night. We made all of these print crafts over a few days. So often while one dried we had other crafts to work on. However, sometimes the kids just made potato prints all over paper with as many colors as they wanted. That was a lot of fun for them.
So while the kids were busy I got busy going through the craft closet to figure out how to bring this simple print to life as a scarecrow. Googly eyes a must, colored paper will work, and oh that yellow stream might make great hair. Those are the thoughts I had while looking in there.
So the next day the kids glued on googly eyes. I cut triangle hats and noses. I took the streamers and cut them into strips. The kids glued these all on too. I took a brown sharpie and drew on the mouth. Ta da, we have a scarecrow!
Fun fall decorations for our art wall.
More crafts to check out:
Candy Corn Turkey- Classic Handprint Art for Thanksgiving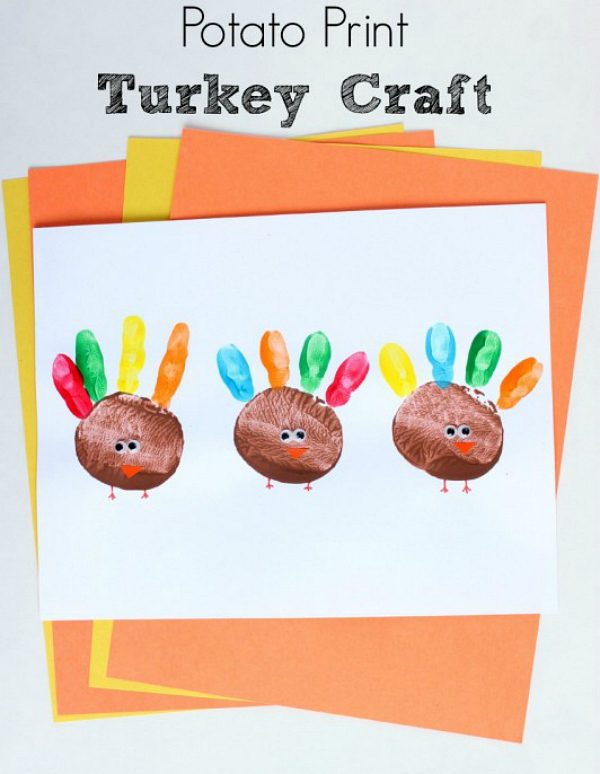 (Visited 3,599 time, 2 visit today)